Sleeping Romance
NEWS:
Live shows 2019
October 10th Acoustic show @ The Room – FemME Festival (NL)
October  11th @ FemME Festival (NL)
October  12th @ Kreatief Neckarsulm (DE)
October  13th @ TOPOFF Interlaken (CH)
Live shows 2018
ALBA EUROPEAN CONFIRMED: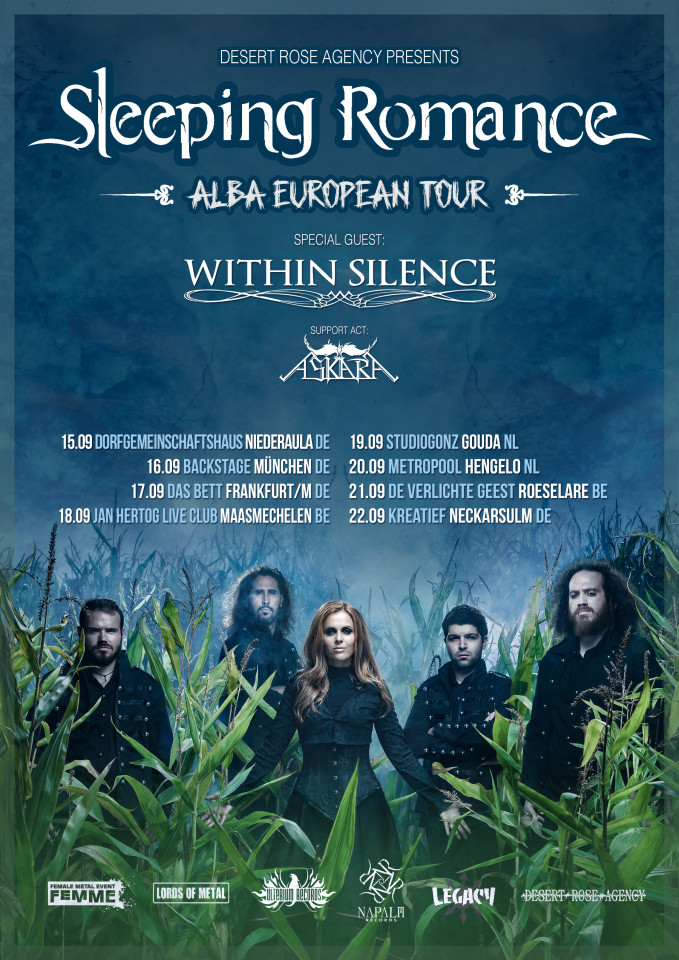 The music video for our brand new single "Lost in my eyes" is out now! Check it out at YouTube!
The music video for our brand new single "Where The Light Is Bleeding" is out now! Check it out at YouTube!
Live shows 2018
NEW TOUR CONFIRMED: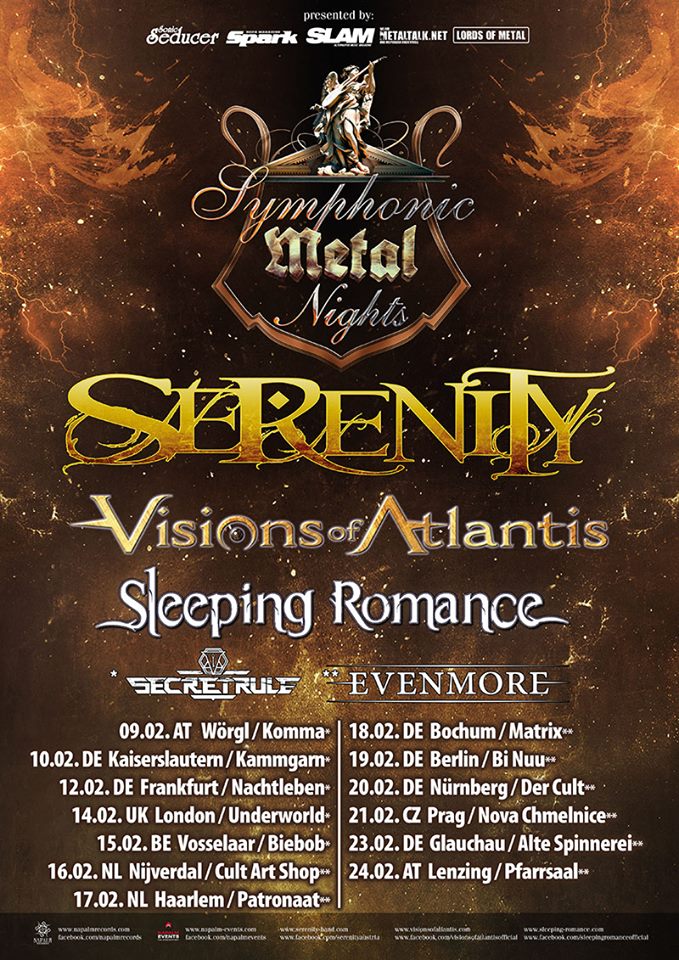 We are very happy to present "My Temptation", the first single from our new album "Alba"! Check out the lyric video below!
"Alba" will be released on November 3rd through Napalm Records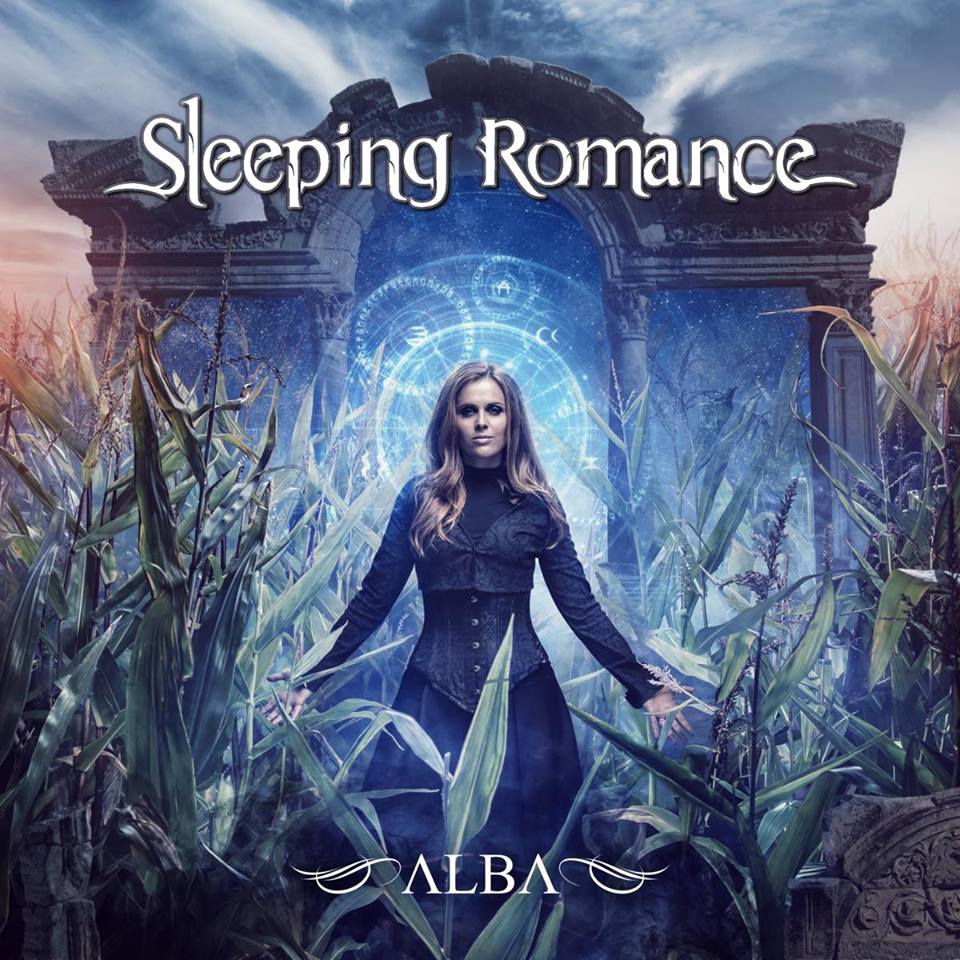 Sleeping Romance Unveil First Details Of Napalm Records Debut "Alba"! Pre-Orders Now Available!
Let the curtain rise on the new Mediterranean Symphonic Metal sensation: SLEEPING ROMANCE!
This Italian quintet displays true mastery, as they fuse bloodcurdling classical sounds with monstrous Melodic Death Metal-riffing. The music is full of force yet sustained by noble, theatrical flamboyance and provides a symphony for the broken hearted who somehow manage to love again.
Their upcoming album "Alba" leads a journey of orchestral opera arrangements and siren songs; touching, sometimes frightening, but always as personal as can be. Songstress Federica Lanna means every word she sings and Federico Truzzi complements her lovely voice with delicate guitars.
SLEEPING ROMANCE states:
"We are very excited to present our new album "Alba", an album we are very proud of! "Alba" represents a strong musical evolution compared to our debut album and is more dark, powerful and deep. Heavy guitar riffing, a lot of orchestral and choir sections and emotional lyrics is what you'll get from this album. All strings, woodwinds, brasses and choir parts are recorded live to give our songs real life and a great sound.
The concept of Alba, "Dawn" in Italian, centers around the main character and her life that advances through difficulties, choices and mistakes, and leads the character to a positive growth. The message the concept wants to give is that life is complex, full of obstacles, but there's always a way forward, and an opportunity for everyone to reach what their heart desire.
We really hope you will appreciate our second album, both the music and the concept and atmosphere!"
Watch out a very first behind the scenes studio video and get a very first glimpse of their title track HERE: https://youtu.be/egxdktc_uXE
The full track listing can be found below:
1. Overture – Twilight
2. Where The Light Is Bleeding
3. Lost In My Eyes
4. Touch The Sun
5. Forgiveness
6. My Temptation
7. Across The Sea
8. Everything Behind
9. Through The Looking Glass
10. Alba
11. Underture – Daylight
SLEEPING ROMANCE's frenetic "Alba" is not to be ignored. Get your pre-order HERE: http://smarturl.it/Alba-NPR
Live shows 2016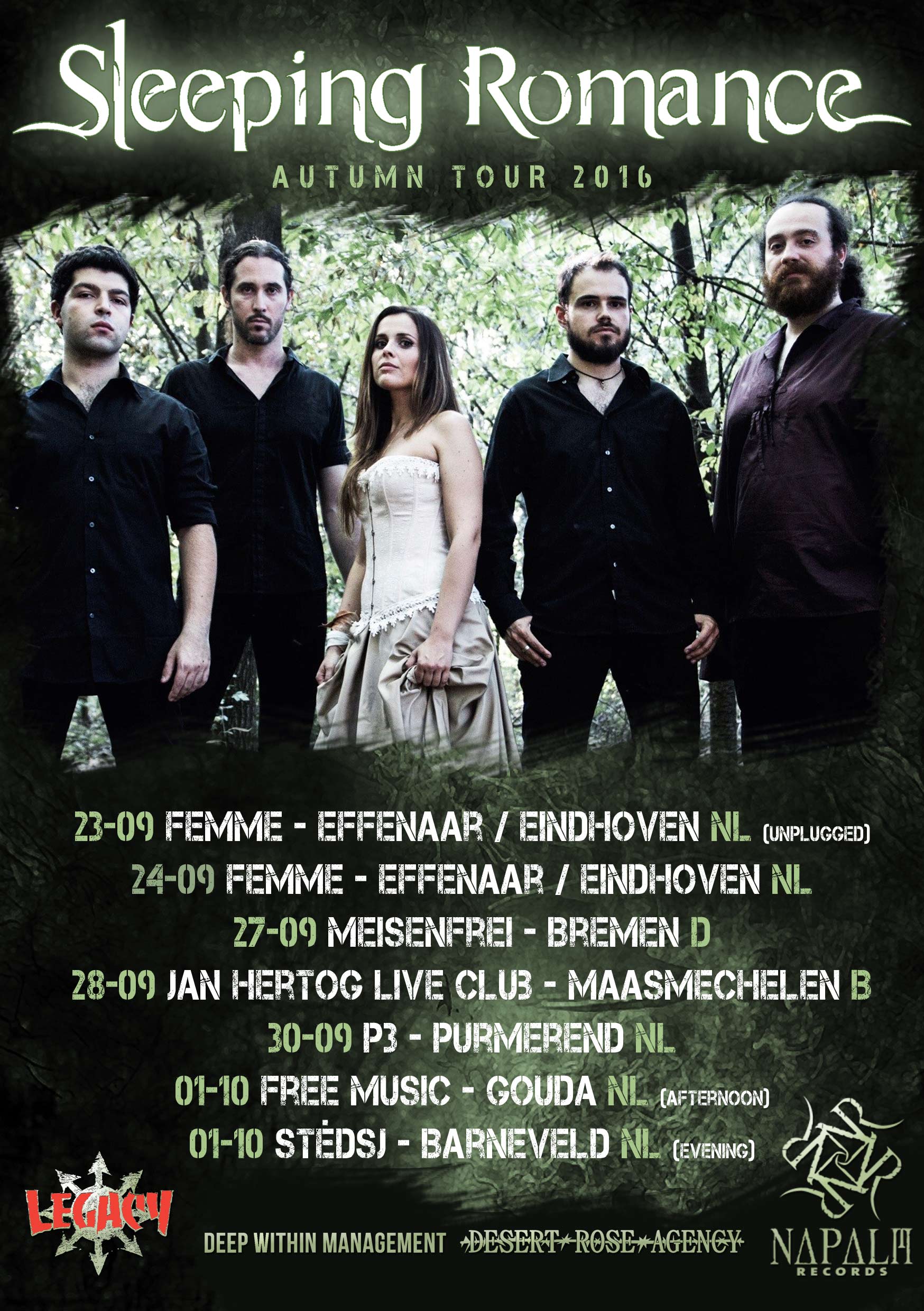 August 20th: Heavenstage Festival – Flaach CH
September 8th: Mutina Boica, Modena (MO) (unplugged)
September 23th: FemME (Female Metal Event) – Effenaar / Eindhoven NL (unplugged)
September 24th: FemME (Female Metal Event) – Effenaar / Eindhoven NL
September 25th: TBA
September 27th:  Meisenfrei – Bremen D
September 28th: Jan Hertog Live Club – Maasmechelen B
September 30th: P3 – Purmerend NL
October 1st: Free music – Gouda NL (afternoon)
October 1st: Fearless Festival in Stèdsj, Barneveld Netherlands NL
New mini-tour confirmed during November 2015:
November 12th: StudioGonz – Gouda, Netherlands
November 13th: PopEi – Einhoven, Netherlands
November 14th: Brainstorm Festival – Apeldoorn, Netherlands
November 15th: Jan Hertog – Maasmechelen, Belgium
SLEEPING ROMANCE SIGN WORLDWIDE DEAL WITH NAPALM RECORDS!
Founded in 2011 in Modena, Italy and fronted by the emotional vocals of Federica Lanna, Symphonic metallers SLEEPING ROMANCE have joined forces with legendary metal and hard rock label, Napalm Records and signed a worldwide record deal!
Napalm Records on the brand new signing:
"We are proud to announce the worldwide signing with SLEEPING ROMANCE! Here's a young band that mystify listeners with atmospheric melodies over darkened dynamics, creating an undeniably epic wall of sound. I'm sure you will be just surprised when you hear the upcoming album! Welcome to the Napalm Family."
Federico Truzzi (guitars) states:
"We are really excited about this new co-operation and adventure with Napalm Records, without a doubt one of the best labels in the industry. We all consider it a great opportunity in our professional lives and an amazing step forward for the band. We are so thankful for this new agreement and we will do our best to grow as musicians and as a band."
SLEEPING ROMANCE is currently working on the pre-production of the second album that will contain an evolution of the band's sound without moving away from the original concept and vision of SLEEPING ROMANCE. "We are really excited about it! There is a lot of work ahead but we are sure it will be a killer album. Il metallo!!"
SLEEPING ROMANCE line-up:
Federico Truzzi- Guitar/Orchestra
Federica Lanna – Vocals
Lorenzo Costi – Bass
Francesco Zanarelli – Drums
Fabrizio Incao – Guitar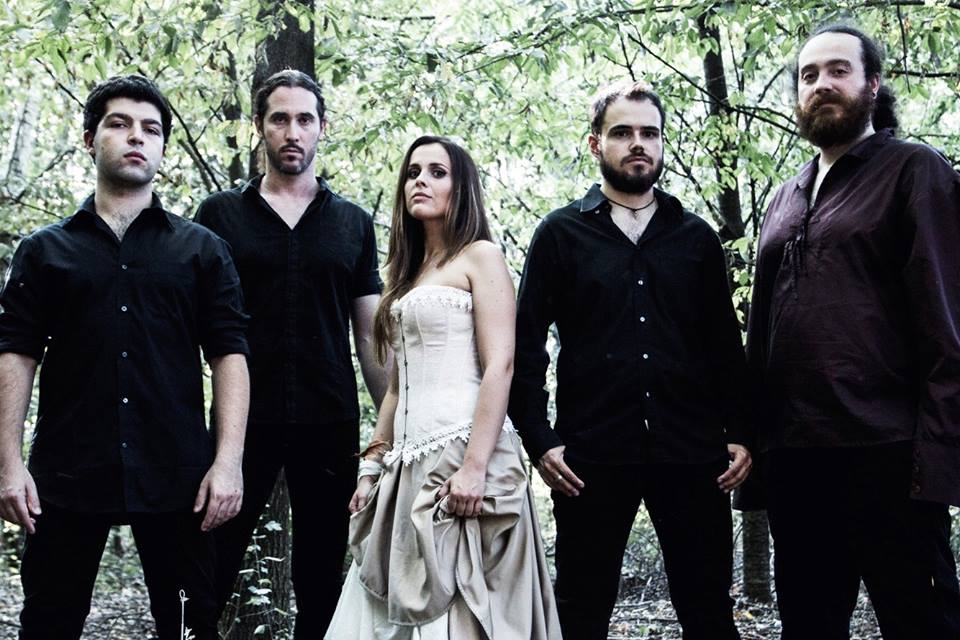 A new video of "December flower [Chamber music version]" is online:
 "Fire&Ice" VIDEOCLIP: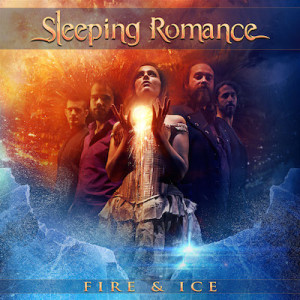 We're really proud to present our brand new single entitled "FIRE & ICE"!
You can get it in digital format at iTunes and Bandcamp or stream it at Spotify.
The digital single includes two additional tracks: a "cinematic version" of "Fire & Ice" as well as a re-recorded version of "December Flower".
We hope that you'll enjoy it, and thank you so much for your support!
Purchase the single at Bandcamp here:
https://ulteriumrecords.bandcamp.com/album/fire-ice
A music video for "Fire & Ice" is recorded, and will be released during the coming month. More updates will follow!
 We're really excited to announce that we'll return on tour  in March 2015.
March 13th: Elements of Rock – Uster, Switzerland
March 15th: VolumeMax Fest IV  - Brno, Czech Republic
March 16th: British Rock Star  - Bratislava, Slovakia - with Dragony & Signum Regis
March 17th: ExitUS – Prague, Czech Republic
March 19th: StudioGonz – Gouda (NL) – with La Ventura
March 20th: The Mix – Wolvega (NL) – with Veritas Infinita
March 21st: Ukien – Kampen (NL) – with Sin7Sins & La Ventura
March 22nd: De Pit – Terneuzen (NL) -with La Ventura